Promotional Products
Unleash Your Brand's Potential with High-Quality Promotional Products!
Whether you're looking for 10,000 branded items or 1 custom thank-you gift, we'll work with you to find the perfect product for your project.
How to Find Your Promotional Products
You can browse thousands of promotional products
HERE
in our store. The store is expansive. If you're not finding exactly what you're looking for or if you just don't feel like dealing with it, call or contact us using the form below. Let us know what you're looking for and we'll pull together some options for you to look over.
Tell Us About Your Promotional Products Project
We'll get back to you with a custom estimate. Or call us 708.442.5961, Monday through Friday, 9-5pm Central.
Why Your Business Should be Advertising With Promotional Items
Promotional products play a crucial role in enhancing your business's success and leaving a lasting impression on your target audience.
Effective Brand Visibility: Promotional products serve as tangible representations of your brand. By incorporating your logo, slogan, or message on items like pens, mugs, or apparel, you create a walking billboard for your business. Every time someone uses or sees your branded product, it reinforces brand visibility and increases recognition.

Enhanced Brand Recognition: Consistency is key when it comes to building brand recognition. Promotional products provide a unique opportunity to showcase your brand consistently across different platforms. Whether it's at trade shows, corporate events, or customer giveaways, these items reinforce your brand identity and help customers remember and recognize your business.

Increased Customer Engagement: Offering promotional products creates a sense of goodwill and fosters customer engagement. People love receiving free items, and it sparks a positive emotional response. By gifting useful and high-quality products, you not only grab attention but also build a connection with potential customers. This engagement can lead to increased loyalty and repeat business.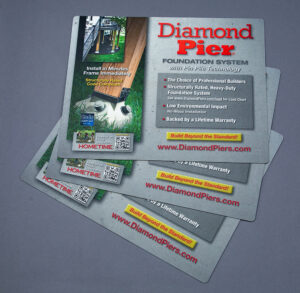 Cost-Effective Marketing: Compared to traditional advertising channels, promotional products offer a cost-effective marketing strategy. They provide long-lasting exposure at a fraction of the cost of other advertising methods. With a well-designed and practical promotional item, you can reach a wide audience and generate brand awareness without breaking the bank.

Memorable Impressions: Promotional products create lasting impressions that go beyond the initial interaction. When customers receive a useful and well-designed product, they associate positive feelings with your brand. These items act as reminders of your business, keeping your brand top-of-mind and influencing future purchasing decisions.

Word-of-Mouth Advertising: Promotional products have the power to generate word-of-mouth advertising. When customers receive a promotional item they love, they are likely to share it with others, sparking conversations and generating interest in your brand. This organic, personal recommendation can have a significant impact on expanding your customer base.
In summary, promotional products are essential for your business as they increase brand visibility, enhance recognition, foster customer engagement, offer cost-effective marketing, leave memorable impressions, and generate word-of-mouth advertising. By incorporating promotional products into your marketing strategy, you can strengthen your brand presence and drive business growth.
Call Us: 708-442-5961 • Email Us: Sales@CyberToast.com